This book has set off a chain of inspiration for me...
I've been feeling the urge to try some embroidery for a while now, and this was the thing that tipped the scales. 
I bought some linen from work, and have a nice stockpile of Paternayan yarn to use.
At first I wanted to do either of the these pieces...
Searches on Google revealed more inspiration in the form of stitch samplers, like these, and the more I looked around online, the more I realized I wanted to do something along the lines of this...from Dropcloth on etsy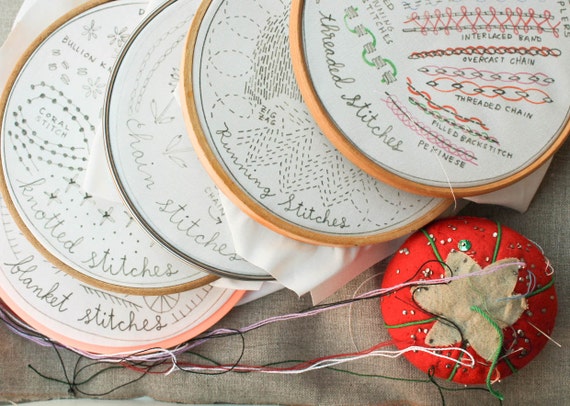 ...or this from Julie on Flickr.
But It was finally this article on Random Stitch Samplers,
from Mary Corbet's fabulous and informative website, needlenthread.com
...that made me decide to go ahead and start my own sampler.
I had the linen and I had the yarn,but I still felt the tug to buy something. Like I couldn't make up my own thing and have it turn out the way I wanted it, or like I didn't know enough about how to do it. But in the interest of frugality and not amassing more stuff (!)... (I just recently did a huge overhaul of my yarn stash and gave away two big bins of yarn I no longer wanted!)...I decided to work with what I had on hand.
And if I'm ever feeling that I don't have enough Paternayan yarn, I know that my Mom, a few years ago, acquired two bins of this same kind of yarn for free, and I'm sure she'd be happy to share.
So over the last few days, I've watched videos on how to do some basic stitches, picked out colors that I love, and started stitching.

      I started with the lime green in the center and a simple running stitch. Then the orange-red and stem stitch, and a curve no less. Then I filled in the space between the two by practicing backstitch. Last night I did the two lines to the left. The line to the right is a whipped running stitch, and the left is a laced backstitch. None of them is very hard, but really satisfying.
This morning, you can see I added a line of coral stitch or coral knot stitch in blue; a little trickier for me, but I love the challenge of figuring it out -  and from teaching others to knit, I know it just takes practice and patience.
I love the colors!
I'm keeping in mind that it's a practice piece...
enjoying the process of learning new things...
and knowing that a blind man on a galloping horse wouldn't see any mistakes!
This allows me to really enjoy it, relax and havefun!